Post by whyohe on Nov 29, 2010 16:07:16 GMT -5
Well I FINALLY got another doe, and a nice sized one for here in PA. The day started out using my Remington 700BDL. Well at 8:30 am i see some doe comming up the hill 100 yards away. The only time they stop is behind a tree or bush. Well one stopped in front of a small hole in the trees. I can just see her sholder. I squeez off and she doesnt drop??? She trots off?? OK may be she stepped forward and i hit her alittle back. Wait 5 mins and get down and look for blood. NOTHING! Looked every where and even found the trail they were using and followed it. NADA. Ok it was a small window i probably pulled the shot. Ok I work my way back to the tree stand. I get up there and settle back in. At about 10:30 i see some deer running threw the field and comming my way!! OK I get ready BUT they start walking to my right into some thickets!!!NO! They are working their way to a window for a shot. They pause for a second. I take the shot. They bolt and 4 of them come running right at me! But I look at where i shot to see if she is down. WHAT?

Nothing there? The 3 doe and a 4 point buck go FLYING by me. I'm not risking it. I go down and look to see if she ran a different way. AGAIN.. NOTHING NO HAIR NO NOTHING! I'm getting discouraged. Well I have been awake for 24 hours. I couldnt sleep cause I work 3rd shift and not use to sleeping at night. So may be I didnt see something in the way? Am i forcing shots that I shouldnt? Is the gun off? Well im tiard and maybe I just need some rest and sleep. I start to take off my cloths and i notice my hunting license is GONE! OH NO, could it have come off when i was in the thickets? Well maybe I knocked it off when i put my back pack on. Well might as well take my back up gun. My Marlin 44MAG leveraction using Moutaineer Custome Carterage 200 grn Hornady XTP going 1950 FPS and go look by my treestand. Ok I get there. Nothing. Well go up and look around. Nope , not there. Well im here and I'm awake from walking and being *&%*%* off from EVERY thing that has happened. Well might as well sit here till 2 or 3 O,clock and look for my licenses on my way back. Well 15 minuts later here come some MORE deer from the same way the last set came from from the field. OK calm down and wait to see which way they are going. OH YEA they are comming my way and following the creek bed!! They are taking their time an milling around. They start walking steadily my way across the small creek bed. She clears a nice big opening at a slow walk. Just lead here a bit and squeeze! BAM! She jumps and does the snow plow run! I see I hit here alittle for ward but in the shoulder. she goes down.! YA. I get to here and do have to put a mercy shot. She was only 60 yards at first shot. It was a complete pass threw both shoulders breaking the one. But Upon the Autopsy I hit the front of the lungs and the throat. Not the perfect shot but it hit where I was aiming. I guess I really dont need to lead tha gun like I thought. But it did end the day well. here are some pics.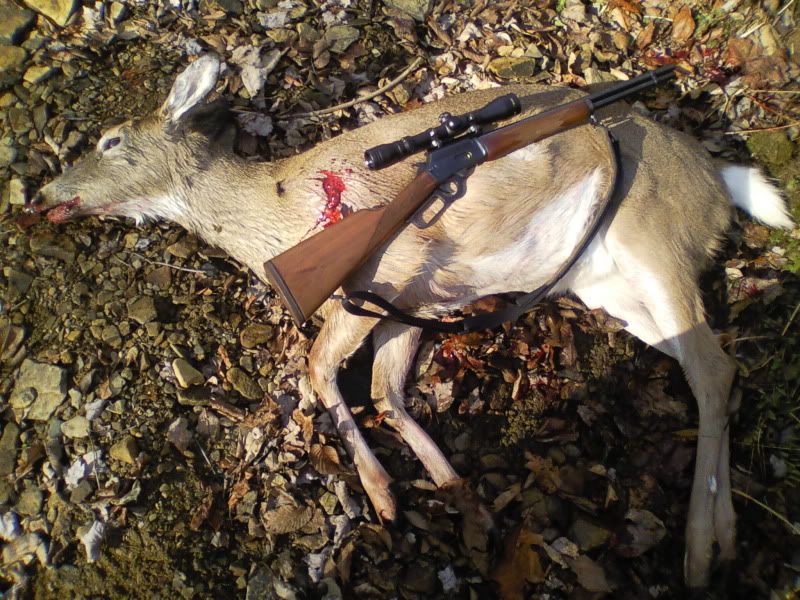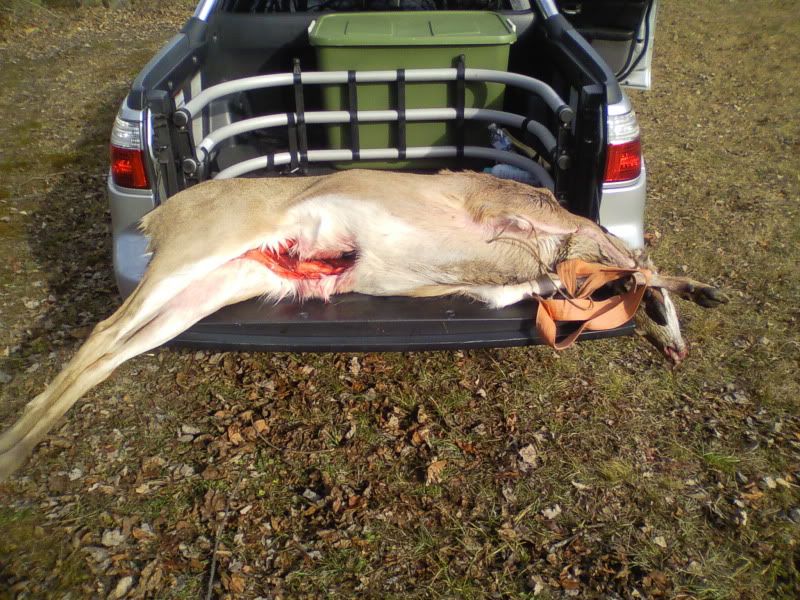 the gun and bed of my subaru is just for scale! She was fat and heavy!