Post by ET on Feb 17, 2020 16:53:03 GMT -5
This is intended more for anyone that still shoots the 10ML-II using a standard Savage BP.
So why is cleanliness so important?
First off, we need to better understand the BP design. When a primer is ignited the generated flame and hot gases are propelled through the flame channel to the vent orifice. The orifice then regulates the amount of flame and hot gases for powder ignition.
If the flame channel becomes restricted with fouling it reduces the amount of flame and hot gas flow to the orifice affecting the intensity released from the orifice.
Now the flame channel also acts as a cushion for returning gas from the bore. Reduce the volumetric spacing from fouling and there's a good chance you may experience blowback at the primer. IMO the head spacing on a 10ML-II sucks. To correct that condition, I properly head spaced the bolt to BP providing the tightest primer fit possible.
As for cleaning the BP this is not a real chore at all. I have an older 10ML-II that uses a bar with two prongs at the end. To simplify installation and removal I welded a 3/8" socket having the same diameter as the bar onto the end of the bar. So, a ratchet, handles that operation of extraction and installation.
I use two different size drills and a 10/32 tap for carbon removal. Once the vent is out, I run a 5/32 drill through it from the Primer Side of the BP. The flame channel is only .002" larger than the 5/32" drill but keeps it centered while going through and does not damage the threads. Then I use the 10/32 tap to chase the threads to ensure they are clean of any loose carbon particles.
Another area I pay attention to is the carbon build up on the shelf beneath the primer. This only gets cleaned when I feel the carbon build up is excessive. Here I use a 15/64" (.234") to do the cleanup.
Finally, I check my vent orifice size so that I'm in a given diameter range. Torch tip cleaner and a Vernier for measuring tells me what I need to know. All that's left is applying anti-seize on vent threads and BP threads for installation.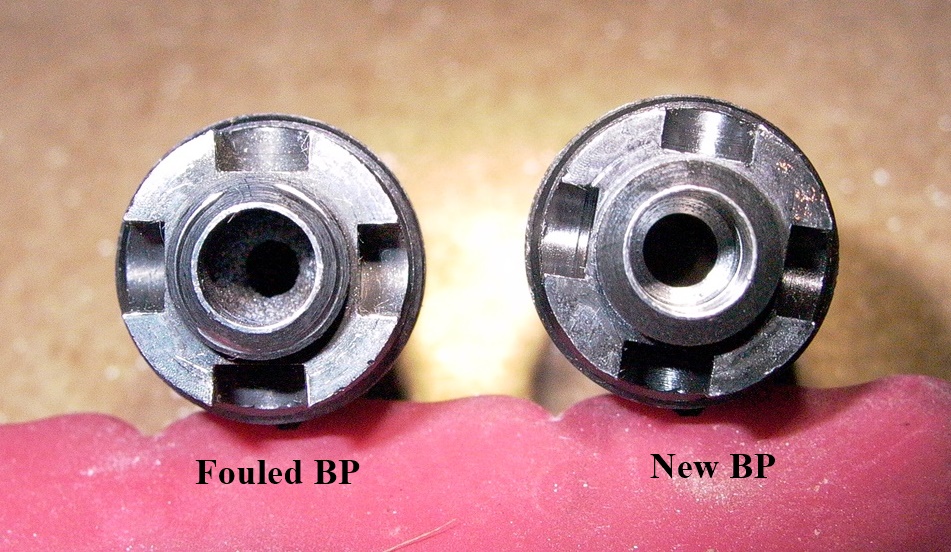 This is the only advise I can share about the Savage BP that has proven itself to me.
Ed