Post by slugger on Oct 25, 2016 9:56:59 GMT -5
My boy has a Missouri river brakes rifle tag.
this is a once in a lifetime tag so we HAD to start out season looking for a monster bull elk.
He went on the day before to find and set up a camp.
His area is east of the Musselshell river to almost Jorden Mt I think. Man that's a LOOONG drive.
3 1/2 hours to the turn ,off the pavement 50 miles of dirt. By dirt I mean not much more then a two track.
Whata drive. Lower Musselshell road out of Sand Springs. We left my house at 5:00 pm and got unloaded at elk camp at 11:00 pm.
Roads where a nightmare. Last week there was a storm of biblical proportions 7" of rain then a foot of snow and wind. Wheel ruts a foot deep with 2" of water in the bottom of a lot of them. The "Storm" had to been horrific OMG. We drove it in the dark...
Some of the pics I took on the way back out .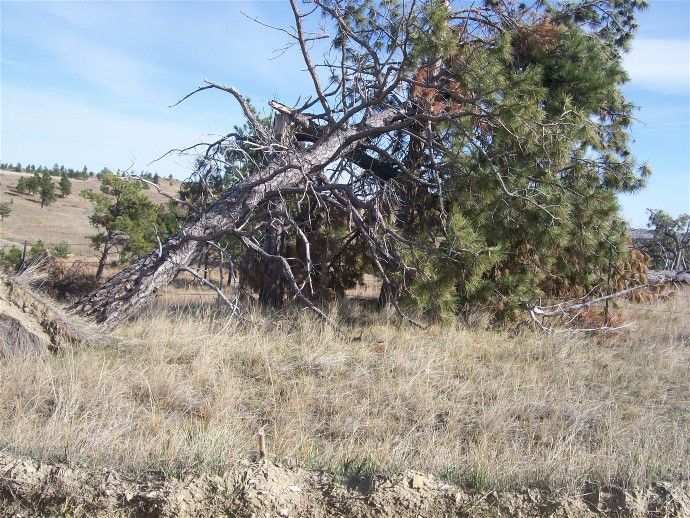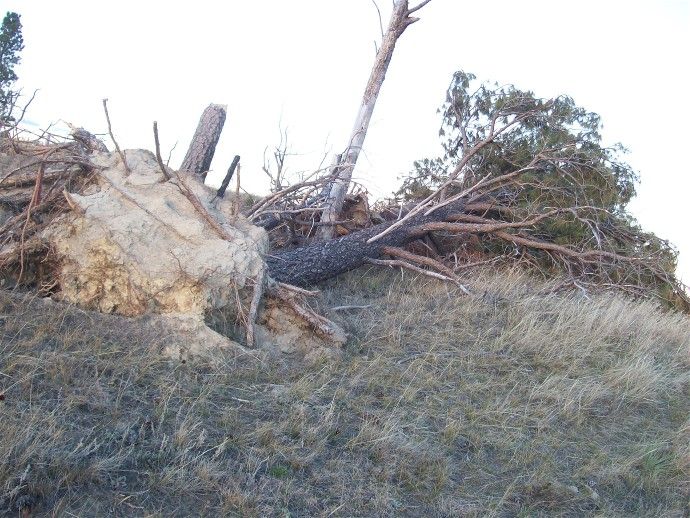 Short night ,we where off well before sunup.
Walked in the dark for a mile ish.
There was SOOOO many other hunters we tried to get way out before they started to ridge walk and road hunt hoping to be where the elk where running to.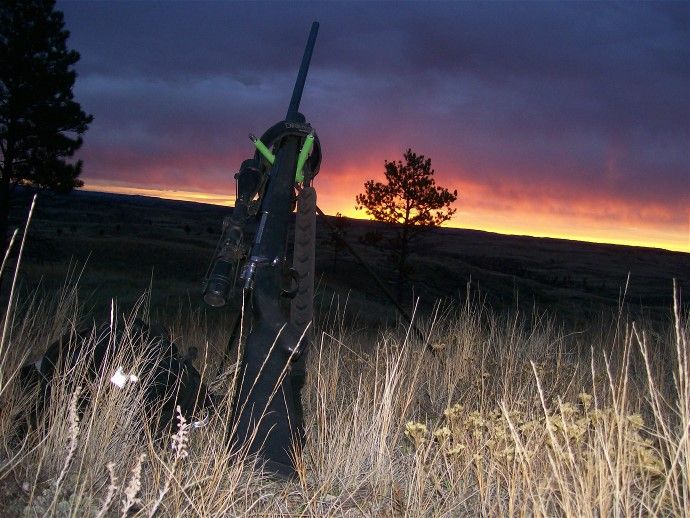 Not as many elk as we had hoped for.
My boy passed on some fair bulls one a good 5X6.
Lots of spikes running but no real big guys.
He is looking for something in the 375 class.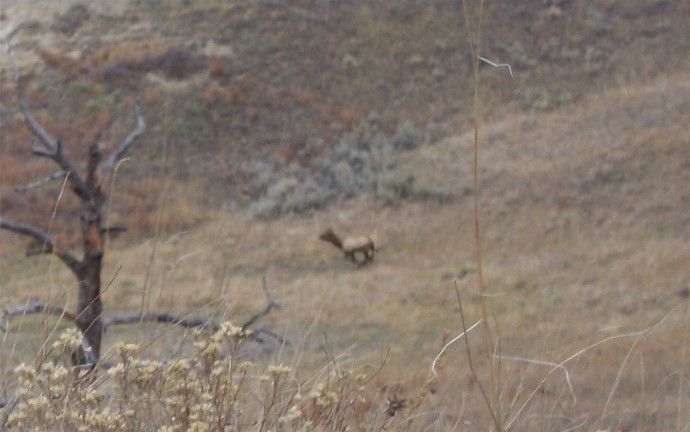 Hunted till very dark and walked back to camp.
Made a good dinner and made a plan for the morning.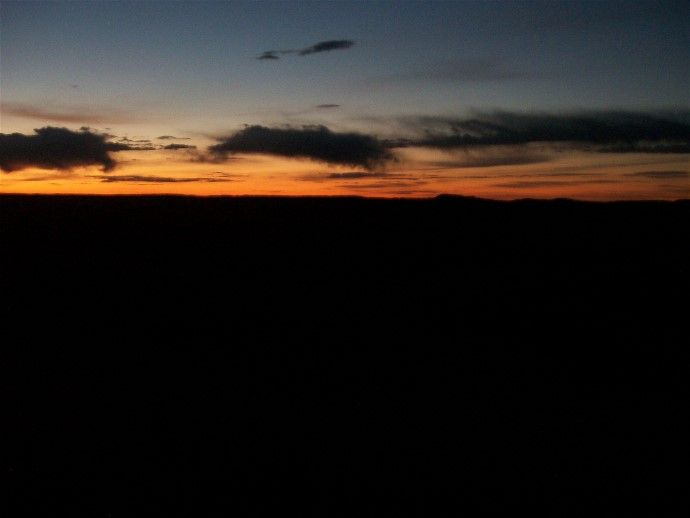 Day two same as day one.
We did go look at the "LAKE" Fort Peck, south end of UL Bend wilderness ,
On the east side of crooked creek boat ramp.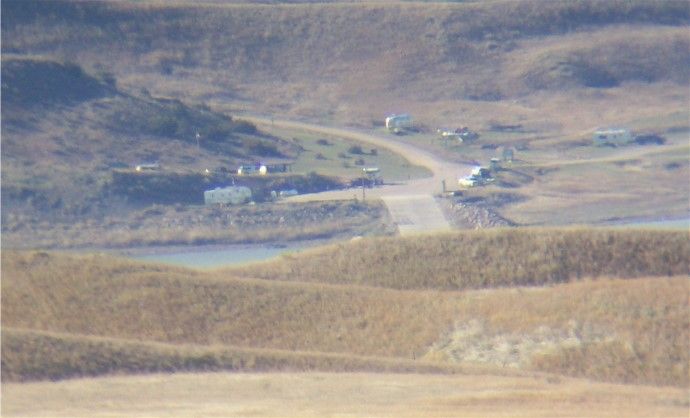 At first light we saw some deer a mile away but let them feed, hoping for an elk. By nine we figured we needed to go and try for a deer. We did see a "VERY" nice buck, but he had disappeared by the time we worked our way over.
One remained an Ok 3x4 mule deer laying in some down timber.
My D-I-L did not want to try and shoot it , My boy wanted to wait too did not want to shoot it either.
SOOO.
We ranged him. 449 yards up a slight hill wind directly in our faces but very light.
As luck would have it week ago I was out shooting my six for some trigger time and did a little 400 yard shooting.
I used a pack and my jacket under the stock.
I had my son back me up in the event I actually hit him but not kill it.
He had the big gun there 338/378.
I leveled off on the very top of his head ,as he was looking at us by now but still on the ground.
I moved over to the right to the center of his shoulder. I had a rock solid hold and felt very confident in the shot. Exhaled and squeezed the timny trigger. An 80 gr TTS Barnes at 3800 fps went off. The deer jumped up took a step and fell. THEN the telltale Whomp. At a 1/4 of a mile there is a LONG time delay for the sound to get back to us.
I crushed through the shoulder/ and blade, through the ribs, the lung the heart the other lung and out the other side through a rib. Wonderful, no back up needed.
You know for a "Junk yard " gun, every time I shoot it I am more impressed with every shot.
It's all fun till you look around where you just shot a big old buck .
D-I-L and I cut across country to the truck and went back to get the cart. Son the pack guy still with his pack and rifle got the deer over half way out when I got the cart to him. WHAT A GUY!
Shot it at 10:05 got back to the camp at 1:00.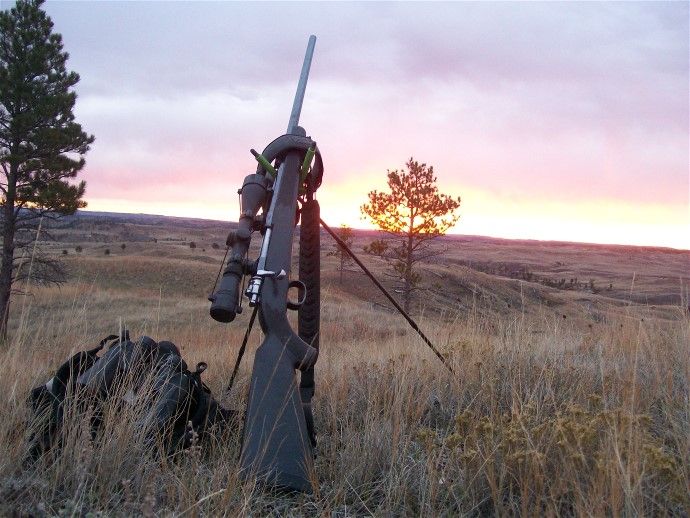 Packed most the junk and headed home.
My boy is off till the first of the year and stayed out , another day or two still looking for a BIG bull. We got home in the dark...