Post by busta on Nov 17, 2011 11:32:04 GMT -5
WARNING: Some pics are graphic. I left out the extremely graphic ones.
Some tried to tell me that the 200gr Shockwave would not expand with 80gr of Blackhorn 209, especially out of 12" of working bore, minus the height of the powder column. Basically 9-3/4" from the tip of the bullet to the end of the rifled portion of the barrel. The bullets shot so well, and I was certain that even at only 1510 FPS (@ 12ft) they would perform just like they always have. I have killed somewhere in the neighborhood of 15 deer with Shockwaves and SST's in every weight 200/250/300, and never once lost a deer, or had one travel more than 60 yards. I have also killed 5 with the 20ga 250 gr SST shotgun slug, with equally devastating results.
Now with that said, the 200gr Shockwave put this 2-1/2 year old Michigan whitetail down and out before I finished the 10 count. The distance of the shot was 60 yards, he traveled 25 yards after the shot, and was expired when he hit the ground.
I was hunting a stand on the morning of Nov 15th, that I have named the "HOT SPOT". Once the rut kicks in, it is busier than GCS. It was extremely foggy at daybreak, and I could see no further than 50 yards for the first hour of the day. I could hear deer traveling past me in the woods at an estimated 50-100 yards, but for the life of me, I couldn't see them. Once the Sun broke the horizon, it started to slowly burn off the extra moisture in the air. And not until it cleared the tree line did it lift to where I could see past the effective range of my muzzleloaders.
I was hunting today with two muuzzleloaders, even though it was the opener of our General Firearms Season. I have never shot a deer, elk, or any game animal with a center fire rifle. As a matter of fact I only own one, and it is a .223 Ultra Varmint, for 'yotes and other vermin. These two muzzleloaders were both on their maiden voyages (so to speak), and I was excited to get them in the woods. As some of you know, I just purchased a new Optima .50 cal muzzleloading pistol last Friday. I installed a scope Friday evening, and sighted it in on Saturday. I was completely ecstatic over the groups I was getting with the 200gr Shockwaves over 80gr BH209. I had two, three shot, one hole groups at 50 yards. I'm afraid that is accuracy some of my rifles would be hard pressed to duplicate. My other pistol cases just were not long enough to enclose this hand cannon, so I used a rifle case for this hunt.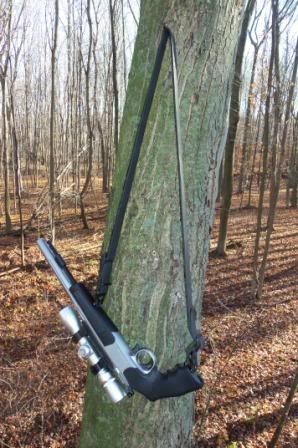 My other muzzleloader on this hunt is my Custom .45 caliber Huntsman that I put together with a .45-70 barrel. This barrel conversion was done by a gentleman from Virgina. It now has a Savage breech plug for shooting Blackhorn 209 powder and works wonderfully. I also supplied my forend, Knight ramrod thimble, and a Universal Power Rod to complete my conversion.
I had seen several does and young bucks all morning go through GCS, moving to and fro. Not much shooting at all, due to extreme reduced visibility. I had let several 1-1/2 year old bucks live to see another day (or at least another hunter), six in all. I had watched as the young bucks were rousting the does, grunting, and fruitlessly chasing them around the woods. I took pictures of some of these bucks, and around 11am these two ended up dejected and together, after I had watched them both try to win the hearts of several does, to no avail.
They became very focused for a moment on something down through the woods off to my left that got their attention. Then all of a sudden they shot out of there like a couple rockets, never looking back.
I figured I had better start paying attention to this area as well, when all of a sudden I seen "Scrapper" coming down through the woods on a path that would lead him behind my position in the tree. Now I know why they tore out of there like their hind ends were on fire, Scrapper had obviously had encounters with them before, and probably had kicked their butts. I had seen Scrapper on a few occasions earlier, during our bow season, and passed him up, in hopes he would live another year. Scrapper and I had went back at least one year when he was a small 8 point last year, probably two years when he was a button buck for that matter. Scrapper was not the biggest buck in the woods, just a two and a half year old with an attitude. His neck is all scarred up from fighting I presume, and the hair is missing from a couple spots right down to the hide. Scrapper had broken off the tip of his right main beam, just past the G3, and also his left brow tine is merely a stump of what it once was. Today was different, Scrapper had a very distinctive limp as he approached, and where someone had obviously ran a slug through his back leg, breaking the bone. It was disappointing to see him with such an affliction, we were almost Buddies, except he did not know me like I did him, or at least that is how I tried to keep it. Even with his injury, Scrapper still held his head high, and was as proud of who he was, as always. My heart felt heavy knowing that I was going to have to finish what someone else had started, but it was surely for the best. I decided that I would use the new pistol to accomplish this mission, because if I didn't do it, the coyotes surely would have.
As he approached, passing 60 yards to the rear of my stand, I could now see that this deed had to be done. I let out a soft mouth grunt, which brought him to a halt. I placed the crosshairs of the scope right tight to the rear of the left front shoulder and slowly squeezed the trigger. At the shot, there was the small puff of white smoke, and as it started to dissipate, I could see Scrapper was still on his feet. I quickly slid the pistol around to my side and grabbed my rifle, just in case this would take another shot. I could immediately see in the scope that another shot would not be required. He only traveled 25 yards, flipped over backwards, and never twitched. I sure hated to see him go before his time, but it was surely better than the alternative. I could have given Scrapper another pass, but it still would have probably been the last time I seen him. I watched on as he lay motionless on the forest floor. I must be getting soft in my old age, because for some reason my eyes were wet, as they are now.