Post by busta on Nov 12, 2011 23:43:51 GMT -5
I have been waiting for a Modern Inline Muzzleloading Pistol for a long time now. I even considered making one of my Sidekicks into a custom "Hand Cannon" for several years, but with all the gray areas and talking to the ATF that don't know any more than the book tells them, I decided I didn't want the "Men In Black" stopping by and putting me in one of those nice white jackets that buckle in the back. I even went so far as to have a concept done up, but that is as far as it has ever gotten.
Sidekick II Concept. Yeah, it's ugly.

Fast forward to a couple weeks ago when I ordered one of these new elusive Optima Pistols. They told me it was in stock and I should receive it in a week to 10 days. Then I get an e-mail update on the process on around the 9th day, and it said the same thing the day i ordered it. So I called them, and they tell me it is now on back order! :x Needless to say, I wasn't very happy and told them they could cancel my order. I found a local dealer that said they would order one for me, but I made them call to make sure whoever they order from actually had them in front of them. Most all of these online dealers never even stock the inventory, they list what their distributor has in stock (or says they have in stock) as their stock, then order from the distributor AFTER you place your order. That is why it takes 7 to 10 days for something they list as being in stock. Enough of that!
I placed my order on Tuesday of this week with a local sporting good store, and was guaranteed that it would be in on Friday (yesterday). Finally, someone was able to keep their word, but I did have to pay retail for it. Sometimes it is worth it.
It came in a nice little box, that they neglected to put the serial number on the outside, but packaged satisfactorily enough to survive the Postal Gorillas.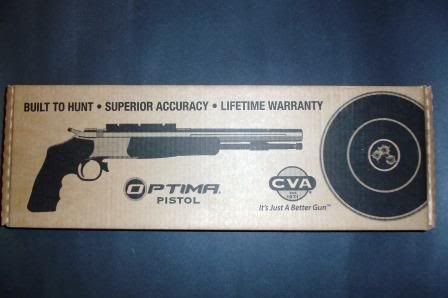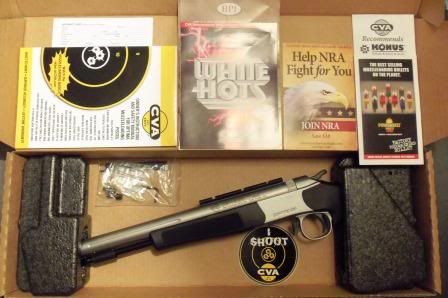 It is listed as having a 14" barrel, but take away 1-5/8" for the breech plug, and another 3/8" for the BGM (Bullet Guiding Muzzle, CVA's version of the QLA), you have just 12" of working barrel left.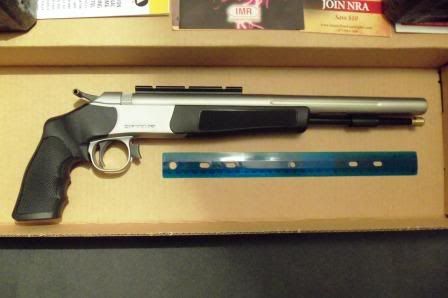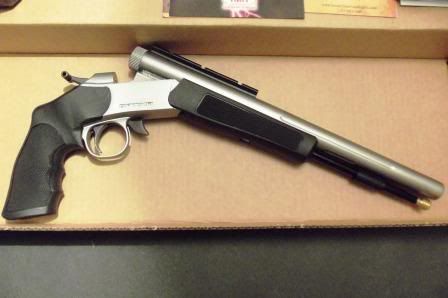 It also states that it comes with sling swivel studs, it does but just not installed. The one in the pistol grip is a littl tough to get started but I prevailed. The one in the forestock actually replaces the forestock screw and belly button.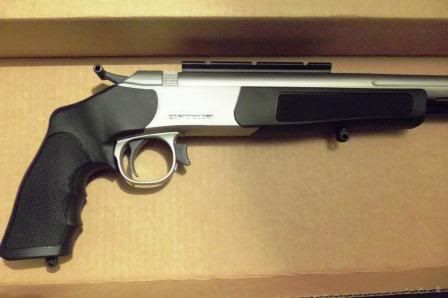 The fluting on the right side of the barrel seems well done, however the left side leaves a lot to be desired.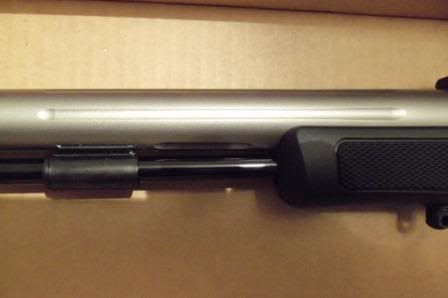 Moving on up to the frame. The casting lines/seams run along the upper and outer edge of the frame. This could easily be cleaned up before finishing to enhance the look and feel. The finish on the reciever also leaves a lot to be desired. Not sure of the process, but it appears to be not much more than silver paint. All of this is purely cosmetic in nature and should not affect function in any way.
It does come supplied with a Weaver style scope mount, D&T'd for optional open sights.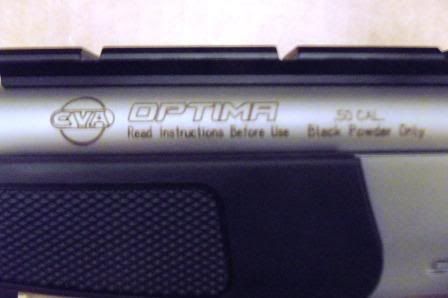 Of course it would not be complete with out a scope and sling. The scope is 23 years old, and proven. I pulled it off my Ruger Redhawk .44 Mag. I didn't want to throw out $300 for a new Leupold before I knew if this thing could shoot or not.
Went to clean it up before heading out back to the range, and after getting the gritty Never Seize nad OEM plug out went to work on the barrel, which was filthy. I worked on it for quite a while, but with the type of rifling CVA uses it still looke funny on the lands.
I had ordered the Blackhorn 209 Breech Plug from CVA last week. It has a 1/8" flame channel and a narrow but deep powder pocket. The OEM plug has a 3mm flame channel and flat faced plug with slight concave to the flash hole.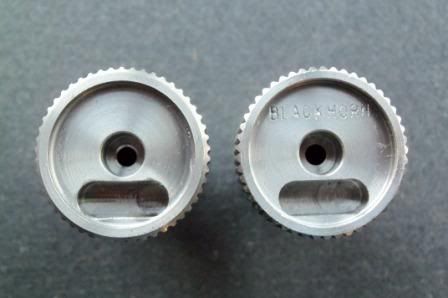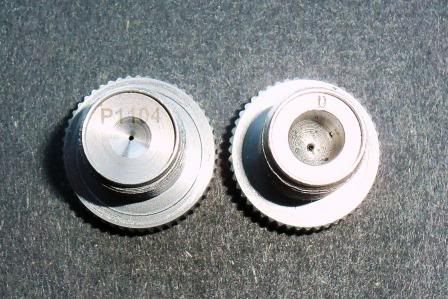 The primer pocket in these breech plug is .250" diameter, while my custom plugs run around .243". The quarter inch diameter leaves the doors open for the European primers that run a little larger in diameter than our US primers. So the NSI 209 primers got the nod. They are longer like the Winchester W209, but will not fit in any other breech plugs I have but one, and they stick in that one. My firing pin bushing has an o-ring on the back, but not enough to keep it from being below the face of the standing breech. I added another like o-ring, and the headspace was perfect for the primers that I would be using. I went out back and fired 3 primers before heading out to the range. They all came out perfectly clean.
I had "eye ball" bore sighted the scope after mounting, and was sure it would be on paper, but set the target up at 25 yards for the first three shots. The first 3 shots were with 80 grains of BH209, 240 gr Cheap Shot, and the NSI 209 Primer. I was actually shocked at just how close it came, but the group needed some work. These are not the most accurate bullets by far, but I got a great deal on several packs a few years ago at $1.88 per 20 pack. The wind was gusting from R-L, with occasional luls to gusts that would nearly blow my chronograph and tripod over.
Here is the first 3 shot group. Close enough to go back to 50.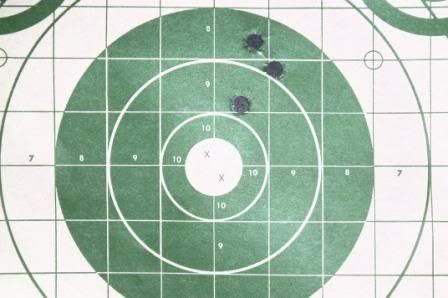 This is my second group at 50 yards. 80 gr BH209, 200 gr Shockwave, and NSI primer. Yeah, that grin hasn't wore off yet.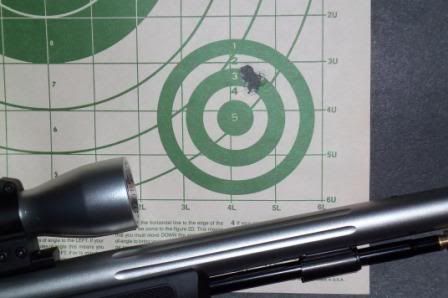 Back to the Cheap Shots again and 70 gr BH209. Two together, then one went high.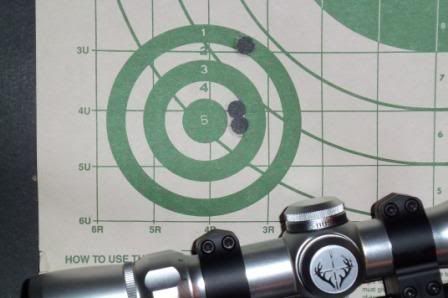 Next up was 350 gr Hornady FPB's, 70 gr BH209, and NSI primer. These are usually outstanding shooters in my .502 bores, but I think I jacked them up trying to load them in this pistol without a short starter. 2 bullets hit high and left, the third just off the paper a hair, just left of the top hole.
Then I had to go back to those 200 gr Shockwaves, with 80 gr BH209 and NSI primers. Just grinning again, and still. Looks like this is what she is gonna like.
This is the overall target at 50 yards.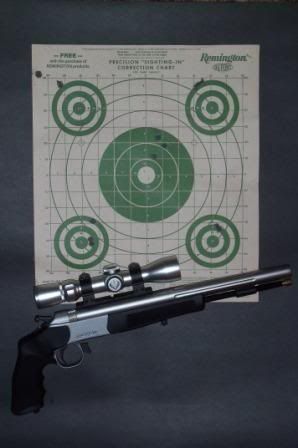 I did shoot a couple groups at 100, the first group had two touching, then mis-timed the wind on the third and opened the group up to 2-1/2". This was with the light 200 gr Shockwaves and 80 gr BH209. I was getting 3-1/2" of wind drift at 100 yards. The last group I shot was with the 250 gr SST Low Drag red 3 petal sabots. That group is just a hair over 2".
Average velocities for the 200 gr Shockwaves and 80 gr BH209 was 1510 FPS.
Here is the breech plug and standing breech after the 21 shots, cleaner than a whistle.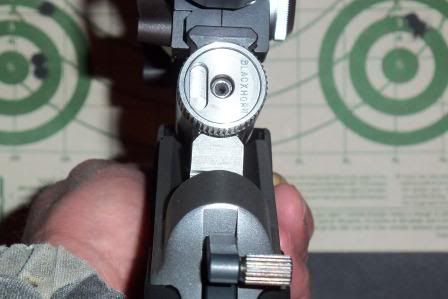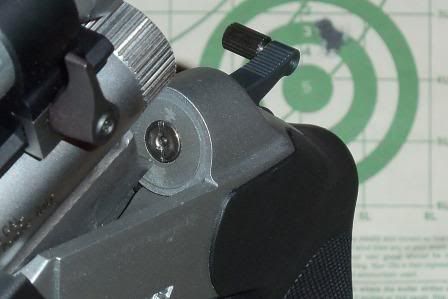 Old habits die hard, so even though it didn't need it, my breech plug was still pretty in pink after removal.
One thing that really shocked me was the shockwave sabots hardly opened up at all, but shot the best of all the bullets today, outstanding actually. Here is some of the sabots, some primers, and the breech plug. All clean except for the business end.
These breech plugs are unbelieveable, although I didn't shoot the OEM breech plug, the Blackhorn 209 breech plug worked flawlessly for 3 primers and 21 shots. The flame channel has a bit of carbon build up, but not even a hiccup. I will probably mod the OEM breech plug to a 5/32" flame channel and add a vent liner like my other custom breech plugs.
My overall thought of my first CVA, and muzzleloading pistol is cosmetically it could use some work, but it is mechanically sound, and a hoot to shoot. It has earned a trip to the woods this Tuesday, the opener of our general firearms season, and during our December muzzleloading season as well. Next range session will have to wait until after season, I will try more powder, but I can't imagine it shooting better than those 200 gr Shockwaves and 80 gr BH209.